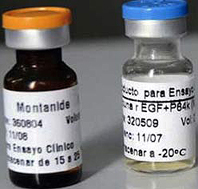 CIMAvax EGF is a therapeutic anticancer vaccine developed entirely in Cuba and licensed in Cuba for use in adult patients with stage IIIB/IV non-small-cell lung cancer (NSCLC). The vaccine is based on active immunotherapy by which an individual's immune response is manipulated to release its own effector antibodies (Abs) against the epidermal growth factor (EGF). Please find below CIMAVAX EGF eligibility criteria in Spanish and model Cimavax treatment program composition and model cost.

CRITERIOS DE SELECCIÓN DE LOS PACIENTES PARA RECIBIR TRATAMIENTO CON VACUNA CIMAvax-EGF
Paciente con diagnóstico de Cáncer Primario de Pulmón definido como de Células no pequeñas con confirmación cito y/o histológica en estadios IIIB o IV.

Pacientes que hayan concluido la primera línea de tratamiento oncoespecífico (Quimio o Quimio/Radioterapia)

Que haya sido evaluada la respuesta objetiva como Enfermedad estable, remisión completa o parcial, según los criterios RECIST establecidos, 4 semanas después de haber concluido el tratamiento primario y que no hayan transcurrido más de 8 semanas después de haber concluido este tratamiento.

Que tenga más de 18 años.

Que desde el punto de vista funcional no tenga criterios negativos: complementarios dentro de limites normales de cifras Hematológicas y Hemoquímicas.

Expectativa de vida de al menos 3 meses

Estado Clínico de la OMS 0 a 2.

Que no sea portador de metástasis cerebrales.

Las pacientes femeninas en edad fértil deben utilizar métodos contraceptivos adecuados y poseer una prueba de embarazo negativa.

Pacientes que hayan firmado el consentimiento informado para recibir este tratamiento vacunal.

El resumen médico debe estar realizado por el médico de asistencia del país en cuestión donde deberá consignarse la solicitud expresa del tratamiento vacunal.

Debe ser portador de una carta de autorización de la Agencia Regulatoria del país de residencia para los trámites aduanales pertinentes de entrada del medicamento. (**)

No debe estar recibiendo ningún otro tratamiento.
El paciente debe reunir todos estos criterios que deben consignarse en los documentos que evalúa la Comisión de Oncólogos.
(**) Este acápite es de estricto cumplimiento, debe ser discutido previamente en su país y solucionar los trámites migratorios.
MODEL THERAPY FOR THE CANCER OF LUNG WITH MONOCLONAL ANTIBODIES. (CIMAVAX EGF)
Hospitalization (4 nights)
Hospitalization in private room category I (Inc. Feeding and nursing attention)
Attention of the physician assistant to hospitalized patient. (It includes visit of the physician)
Initial evaluation and making of medical history
Consultations
Consultations with specialist of Stomatology General
Consultations with Podiatry

Researches
Hematological and Hemochemical Researches
Finished hemogram
 Sedimentation speed
 Complete Coagulogram
 Glycemia
 Creatinine
 Uric acid
 Urea
 TGO
 TGG
 GGT
 Alkaline Phosphatase
 Quantitative Serology (VDRL)
 Antibodies test against the VIH-1/2

Imagery Researches
Radiography of Thorax over a distance of TV.
 Therapy with monoclonal antibodies and other medicines
Cyclophosphamide Chloride of Sodium
Vaccine CIMAVAX EGF (16 bulbs)
Zofran
 Transportation in-out
 Medical report, conclusions and recommendations

Price: 8368 CUC
Notes: Accompanist's accommodation with feeding 40 CUC daily. There are excluded other medicines that are not contemplated in the program, disposable material, blood, derivatives or its substitutes.